About Us
At Easysoft, we specialize in helping real estate attorneys and title agents simplify their closings. Our closing software offers solutions that enable automation and streamline the closing process by eliminating repetitive tasks.
Today, we offer our real estate closing software nationwide, making sure businesses are 100% compliant and closings are completed quickly, smoothly and effortlessly. Reduce paperwork and access all your information at the click of a button by creating a full electronic file on Easysoft: all your data in one place, on one screen.
Along with the launch of our powerful new closing software, we are excited to announce that Easysoft is rebranding. Our new look features a refreshed logo, brand colors, messaging and tagline. We feel this new brand identity reflects the evolution of our company, as well as our vision for the future.
Our refreshed brand identity represents our successful and ongoing transition to a company well beyond its software heritage. The new Easysoft logo evokes the clarity, value and durability of the traditional Easysoft look, but evolved to a real estate focus, which represents our broader offering to the real estate closing market. We chose a blue palette because it is fresh, vibrant and approachable. It represents Easysoft's strength, focus on sustainability and growth, as well as our commitment to developing the latest software that enhances the closing process.
The new typeface lends a modern, clean look that matches our software's sleek user experience. Our tagline is now simply, "Closing Software" so that it's clear what we do best. While the new brand has changed to better represent the company as it is today, Easysoft's value proposition remains the same: we combine smart technology, exceptional customer service and expansive industry expertise.
We hope you like the rebrand as much as we do. If you have any questions or comments, get in touch with us.
Easysoft, Inc. 212 North Center Drive North Brunswick, N.J. 08902
Phone: 800-905-7638
Email: info@easysoft-usa.com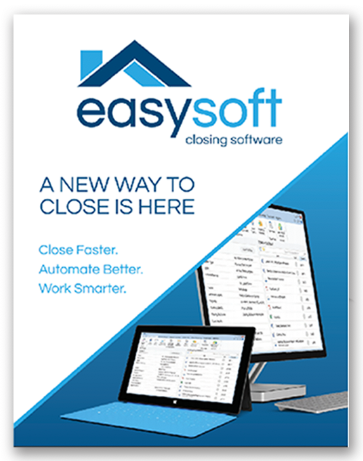 Download Brochure